Indonesia's government has decided to ban Hizb ut Tahrir - if Indonesia can do it, why can't Australia?
Here's Hizb ut Tahrir's predictable reaction.
This is a frightening show of strength put on by Hizb ut Tahrir in central Jakarta last December.
The group conjured up 3 million Muslims who took to the streets to protest against the Governor of Jakarta, a Christian, who had allegedly blasphemed the Quran - by quoting it.
And here's the Jakarta Post's report of the ban.
Jokowi administration moves to ban Islamic group
Marguerite Afra Sapiie and Margareth S. Aritonang

The Jakarta Post
Jakarta |

Mon, May 8, 2017

| 03:26 pm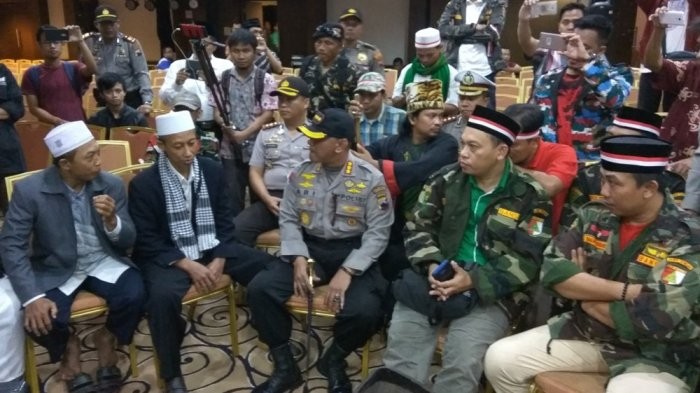 Semarang Police chief Sr. Comr. Abiyoso Seno Aji (center) sit between members of Barisan Ansor Serbaguna (Banser), the youth wing of Indonesia's largest Muslim organization, the Nahdlatul Ulama (NU), and the Hizbut Tahrir Islamic hard-line group at Grasia hotel in Semarang, West Java, on April 9. (jateng.tribunnews.com/-)
Following a string of sectarian rallies in the country's capital and other provinces, the government decided on Monday to ban the hard-line Hizbut Tahrir Indonesia (HTI) group on the grounds that its activities contradicted the Pancasila state ideology and had become a threat to the country's unity.
The ban recommendation, if passed by a court, would be the second time the government banned the activities of religious minorities in the country. President Joko "Jokowi" Widodo's administration banned earlier the Fajar Nusantara Movement (Gafatar) and evicted members of the group from their settlement in Mempawah, West Kalimantan. 
Coordinating Political, Legal and Security Affairs Minister Wiranto announced the decision on Monday on the sidelines of a ministerial meeting to comprehensively examine all mass organizations in the country, a move taken amid growing radicalism in Indonesia.
"The President has instructed us to review all mass organizations to identify those with values that contradict Pancasila or the unity of the state. […] As a legally operating organization, the HTI has no positive role in achieving the national goal," Wiranto told reporters at his office.
"HTI has also promoted values that contradict Pancasila and the 1945 Constitution. The activities of the group have also collided with the public, thus poses a threat to the unity of the republic [of Indonesia]. For this reason, the government has decided to ban the HTI," he said.