Why are other country's failures our problem?
Why do we give money to countries - like Indonesia - that can afford huge military spending?
Who do Shut-Nauru Shorten and fullest-extent Wong want to run Australia for?  Doesn't seem to be us.
Here's SBS's report:
Labor pledges to rebuild foreign aid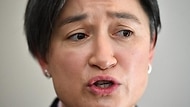 Australia's foreign aid program will be rebuilt if Labor wins the next federal election.
Opposition foreign affairs spokeswoman Penny Wong will pledge an increase in aid funding during a speech to a conference in Canberra on Tuesday.
"Labor will, to the fullest extent that financial circumstances allow, rebuild and grow the Australian aid program in a timely manner," Senator Wong will tell the conference at the Australian National University.
And here's a bloke who makes a lot of sense!  If our neighbours get in the cack with an earthquake or tsunami, fair enough.  We'll help out.  Other than that, why should Australia's poor make third world despots rich?