It's Thursday afternoon on a suburban side street in Preston and Ged Kearney is running along the pavement to knock on the door of one more house before driving across Melbourne in peak-hour traffic to meet Labor's deputy leader, Tanya Plibersek.
The union boss turned Labor candidate does not have time to visit another house but promised a woman who spoke to her farther up the street that she would look in on her son before heading off. With just over four weeks until the Batman byelection on 17 March, she will risk being late if it means one more vote.
The visit is successful. The son, who was already going to vote for Kearney, has now pledged to volunteer for her campaign as well.
Running back up the street, Kearney clambers into the 4WD she shares with her partner and adult children for the purpose of transporting dogs and grandchildren and, just lately, journalists. She doesn't own her own car, preferring to catch public transport to get around the city. Her house in Brunswick, which has been the subject of some criticism because it is located on the wrong side of Merri Creek, in the neighbouring electorate of Wills, was chosen in part because it sits on a bus line.
In 40 minutes, the 4WD, with an electoral map of Batman stuffed into the car seat usually occupied by Kearney's two-year-old granddaughter, pulls into a carpark next to Labor's Victorian headquarters in Docklands.
Upstairs sit more than a dozen women, volunteers who have already begun calling houses in Batman identified by the Labor party machine as belonging to "persuadable voters" that might be inclined to lift its sinking primary vote in the inner city.
The theme of the evening is women calling women but no one begrudges the one man who did not read the event description before arriving.
Middle-aged women, Kearney says, have been most open to changing their vote back to Labor. The kitchen table issues of education, health, and secure employment, which had been playing with limited success in younger, more gentrified areas of the electorate, still connect with mums.
She speaks to each of the volunteers individually, urging them to emphasise her professional background as a nurse and that she raised her children in the electorate. When Plibersek arrives, pressed flat from the first sitting fortnight of the parliamentary year, Kearney introduces her as a hero of the party.
The admiration – and apparent personal affection – is mutual. Kearney was one of the leaders of the campaign opposing WorkChoices and a champion of the labour movement, Plibersek says.
"Obviously this is a seat that we have to win, that Labor is committed to win," she says. "But it's more than that. I am here because I support Ged. I want Ged Kearney in the Labor party in Canberra."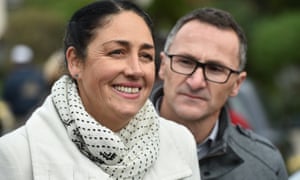 For Labor, the prospect of losing Batman, a seat that it has held for 84 years, is both unthinkable and quite likely.
The Greens candidate, Alex Bhathal, a social worker whose personal demeanour and sensible yet progressive politics are quite similar to Kearney's, achieved a 9.8% uptick in her primary vote in the 2016 general election against former MP David Feeney and narrowed the margin from 10.6% to just over 1%.
Had the Liberal party not preferenced Feeney, who triggered the byelection this month by resigning from parliament over dual citizenship issues, Bhathal would have won. The Victorian Liberal party president, Michael Kroger, confirmed on Friday that they would not run a candidate in the byelection, all but securing the seat for the Greens.
But Kearney is not Feeney, whose many public bumbles before misplacing key citizenship documents included forgetting to declare a $2.3m house in the electorate, which had since been rented by Greens voters who put a poster of Bhathal in the front yard.
Kearney was born in Melbourne, the eighth of nine children, and worked as both a nurse and a nurse educator for 12 years before being elected to the Australian Nursing Federation in 1997. She was made federal secretary of the federation in 2008 and became president of the Australian Council of Trade Unions in 2010.
Despite eight years at the top of that powerful organisation, she remains a nurse down to her sensible shoes.
For the Greens, the 55-year-old is that most dangerous of adversaries: a practised politician with an excellent bedside manner.
"I can't tell you what a huge difference it is to have a nurse putting her hand up for parliament," Plibersek told Guardian Australia. "Politicians aren't necessarily particularly well regarded by the general public but nurses are, and she was a nurse for 20 years … That is, for most people, a sign of character."
Plibersek says the Liberal party's decision not to run a candidate was a "cynical move" by Malcolm Turnbull who, after scandal-filled weeks caused by the deputy prime minister, Barnaby Joyce, "doesn't want this to be a referendum on him."
Turnbull won the prime ministership off Tony Abbott during a byelection campaign in 2015, when dismal polls showed Abbott's popularity was waning.
"If you want to make Malcolm Turnbull's life easier, then allow this seat to fall to the Greens," Plibersek says.
Kearney was asked to run by the opposition leader, Bill Shorten, who she says called her "a matter of days" before her candidacy was announced, which happened the day after Feeney's resignation.
The captain's pick has been compared to the decision to run the former New South Wales premier Kristina Kenneally in another citizenship-induced byelection in Bennelong, which Labor lost after achieving a 7% swing. Keneally was then named replacement for the former NSW senator Sam Dastyari and has already taken her seat in Canberra.
Kearney says she has not been promised a similar position if she fails to win Batman.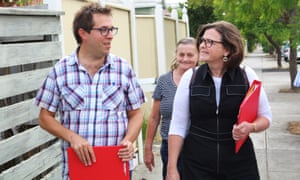 "No, there have been no political promises made to me at all if I lose this, and I do realise that I will be unemployed if I lose the election," she told Guardian Australia. "But right now I just really want to win … I am not thinking about that at all."
Winning would require persuading voters south of Bell Street in the suburbs of Northcote, Alphington and Thornbury, where the Greens won all but one booth in 2016. It is the same area covered by the state seat of Northcote, where the Greens candidate, Lidia Thorpe, beat union organiser Clare Burns with a swing of 11%.
That election, the Greens say, was won on issues such as the proposed $2bn Adani coalmine. Labor has been rapidly cooling toward the project since January but it is yet to match the Greens in declaring outright opposition.
Kearney says few people in the electorate has raised Adani as an issue with her and adds that Labor needs to be "sensitive to the communities" in Queensland that are facing a jobs shortage.
"I think I have been really upfront about my view of Adani that … I sincerely don't think it stacks up, particularly financially," she says. "What I have learned at the ACTU is you can't just say, 'Stop something'. There's a whole complexity and a whole raft of social, economic and legal issues that has to be dealt with. It's a hard message, it's not a two-word slogan, it's a complex message."
Australia's treatment of asylum seekers is another issue on which the Greens are beating Labor in the inner city. Kearney has criticised the policy in the past and said her personal position has not changed.
"The Labor party policy is what it is right now," she says. "What I say to the people of Batman is that I will continue to be a progressive voice both within the party and hopefully within a party of government on these issues."
Back at Labor HQ, Kearney is on the phone with a swinging voter who has questions around local school funding. Swinging around, she waves Plibersek over.
"Do you want to speak to Tanya?" she asks the caller, before holding the phone out to Plibersek, who is Labor's education spokeswoman. Plibersek speaks about the loss of funding to schools in Batman, which will receive $9.5m less in the next two years than they would under Labor's version of the Gonski model, before handing the phone back to Kearney, who says goodbye and puts it down with a smile.
Another vote saved, at least for today.