Earlier today we published this story, debunking some Coronavirus conspiracy theories.
https://www.michaelsmithnews.com/2020/02/some-serious-disinformation-and-conspiracy-theories-about-the-2019-novel-coronavirus.html
ZeroHedge was one of the organisations we mentioned in our account as having distributed the unreliable conspiracy story.  ZeroHedge went a step further too, in naming a Chinese scientist, suggesting he may have been responsible for causing the Coronavirus pandemic, publishing his contact details and encouraging readers to contact him.
It's irresponsible to yell "Fire" in a crowded cinema.  At the outbreak of a new and dangerous disease, I think it's irresponsible to publish baseless and unproven material too.
For all those reasons, I published some facts that countered what ZeroHedge and others had published - that was in response to several approaches from our readers who'd forwarded me the ZeroHedge material.
Now having said all of that!
Twitter has cancelled ZeroHedge's Twitter account.  That is a massive overreaction.  ZeroHedge should have been outed as having made stupid decisions, and for unconscionably and falsely accusing the Chinese scientist and encouraging readers to contact him.  They would have been given heaps and they would have deserved it.
But I don't agree with Twitter's decision to permanently cancel ZeroHedge's Twitter account.
Twitter is heavily weighted towards The Left, and it appears to tolerate infractions from the left while moving swiftly to remove more conservative users.
ZeroHedge was wrong.  So is Twitter.
Here are the details.
The libertarian financial website Zero Hedge was permanently suspended from Twitter on Friday after it published an article questioning the involvement of a Chinese scientist in the outbreak of the deadly novel coronavirus.
On its website, Zero Hedge's pseudonymous author "Tyler Durden" said he received a notification from Twitter that he had violated "our rules against abuse and harassment."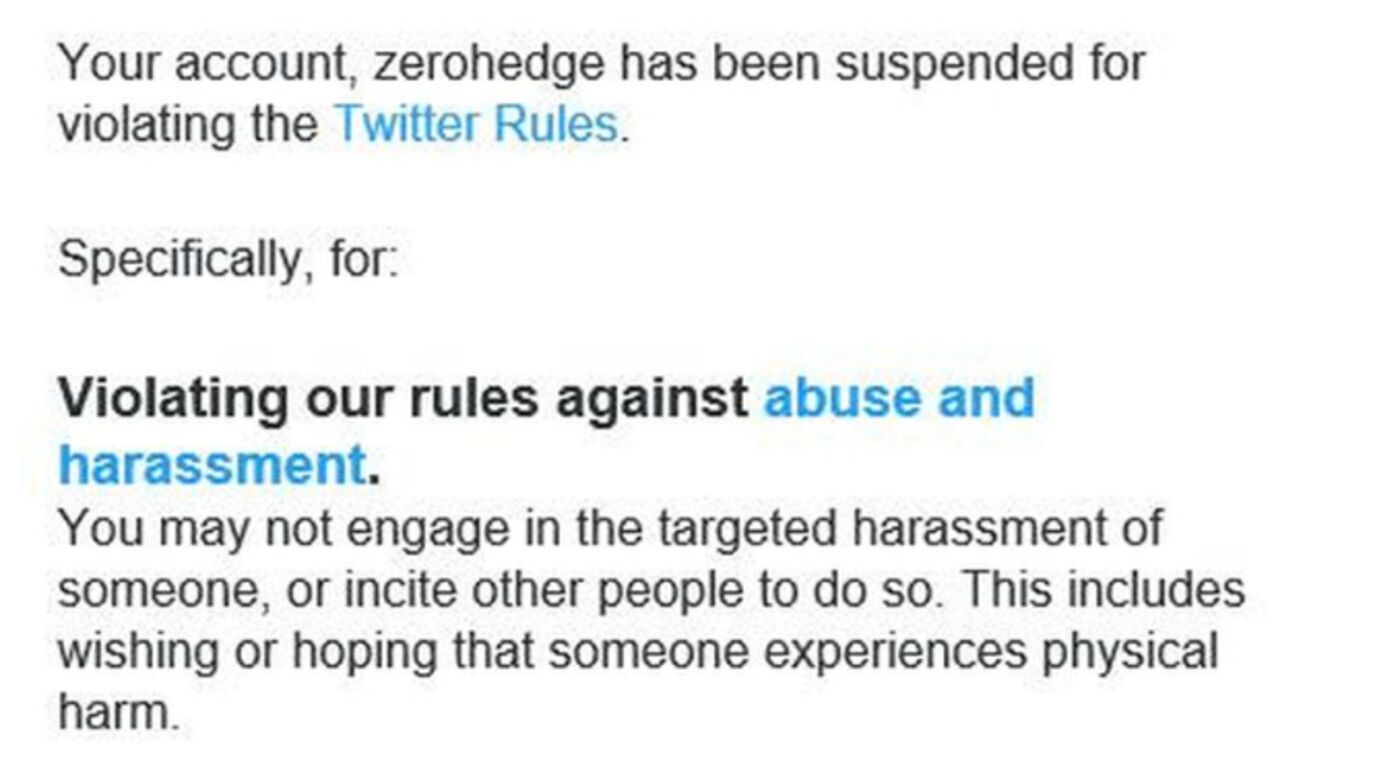 Earlier on Friday, BuzzFeed reported that the Zero Hedge website shared the name and personal information of a scientist who it said may have knowledge about the source of the virus, whose details then spread across the internet.
In a piece titled 'Is This The Man Behind The Global Coronavirus Pandemic?', Durden included a picture of a scientist at Wuhan's Institute of Virology and suggested users could pay him "a visit" to find out more about what caused the outbreak.
Unmasking the Men Behind Zero Hedge, Wall Street's Renegade Blog
"Something tells us, if anyone wants to find out what really caused the coronavirus pandemic that has infected thousands of people in China and around the globe, they should probably" contact him, the report said.
Since being founded in the depths of the financial crisis, Zero Hedge has built a dedicated following by serving up a mix of hardcore financial analysis and populist political commentary.
A Twitter spokesperson said in an email to Bloomberg that the @zerohedge account, which had more than 670,000 followers, "was permanently suspended for violating our platform manipulation policy."
In an email to Bloomberg from the author known as Durden, he said he believed the suspension was "unjustified, and likely motivated by reasons other than the stated ones."
"We are confident that we did not violate any of the stated Twitter terms: we neither incited harassment, nor did we 'dox' the public official, whose contact information is as of this moment listed on the Wuhan institute's website," he wrote in the email.