Bob Fulton recalls Vietnam war service after repatriation of 33 veterans
Bob Fulton's mind was focused on two events over an emotional 18-hour period midweek.
The first was Wednesday night's tense State of Origin game in his role as adviser to NSW coach, Laurie Daley.
The second was Thursday's heartfelt homecoming of 33 Australian service personnel, including 22 Vietnam War veterans, who had been interred overseas principally because their families could not afford the £600 the then federal government demanded for their burial in Australia.
Fulton spent two years of the Vietnam War as an Australian Army conscript, deployed mainly as a PE instructor travelling on the aircraft carrier, HMAS Sydney, transporting troops to the combat zone.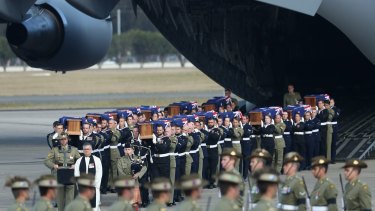 Wednesday night's Origin game and the 10.30am arrival of two RAAF Globemaster aircraft at Richmond base carrying the remains of the dead evoked thoughts in Fulton of sport, war and sacrifice.
"Think of the toughest footballer you have ever seen," he said. "Any soldier who goes to war is tougher than him.
"Here we are talking about running on to a field to win a State of Origin football game, but compare that with getting off a troopship and going into a war that would determine whether you lived or died." Fulton travelled with the 1st and 5th battalions RAR, keeping them fit on the way up and conditioning them as best he could on the return voyage.
He heard stories of horror he could never repeat.
"They went up there as fresh-faced, bright-eyed 20-year-olds and, a year later, returned as mature, hardened men," he said.
Thursday's return of the 33, one of the largest single military repatriations in Australia's history, sent Fulton's thoughts tumbling back to when HMAS Sydney anchored at Vung Tau nearly 50 years ago.
"American navy vessels surrounded our ship, dropping depth charges to deter the Viet Cong who swam underwater in the Mekong River, breathing through bamboo pipes and laying mines on the sides of the ship," he said. "They blew up two ships while we were there."
Fulton recalled the emotion he experienced as troops, some from the 60,000 conscripted by the federal government, filed onto the wharf.
They were soon to be smeared with mud and blood while he remained within the safety of the ship for the return sail to Sydney.
His inner turmoil was a mix of survivor's guilt, deep respect and aching inadequacy.
It's an ache that he cannot compare to mere football injuries, a feeling beyond calibration, beyond metaphor, almost beyond words.
"I did not envy those soldiers getting off the boat," he says cautiously, choosing words which convey relief that he was otherwise deployed, while not rejecting the thought he would have joined them, if so ordered.
"I felt for them. I didn't experience what they went through. It was very emotional watching them getting off the boat. They were real tough guys."
Having witnessed these fighting battalions land in Vietnam, Thursday was especially poignant, given it is the final homecoming of Vietnam servicemen.
Relatives who were denied the opportunity of visiting the graves of the fallen at Terendak Military Cemetery in Malaysia and Australia's first casualty, buried in the Kranji Military Cemetery in Singapore, will now be able to do so in their own country.
At the conclusion of the private memorial service for the families at Richmond RAAF base, 33 hearses bearing the returning Australians departed in a funeral procession for the centre of Parramatta, which is twinned with Vung Tau, the port where Fulton watched those men march to war years ago.
Reinterment services will take place in every state and territory except Tasmania over the following few weeks, in accordance with the families' wishes.
Fulton says of the people who lined the streets to respect the returned: "They should applaud everyone who served in Vietnam." Of those still alive, roped together by a loop of yearning, hope and suffering, he says, "every government, be it Liberal or Labor, has been derelict in their duty of respecting and honouring them".
"At least this government, by finally bringing home the dead, has done the right thing. They were never appreciated for what they did for us.
"They weren't just representing Australia; they were fighting for Australia.
"I was fortunate enough to get involved in something I loved, which was physical training in the army and playing football for Combined Services and Manly. These guys were getting involved in something which could kill them.
"Talking to them on the way back, some of them had never fired a gun. They were called up, did basic training, then corp training, then up to Vietnam. It changed the lives of all of them."
Fulton, one of rugby league's four inaugural Immortals, a man who could make a moment magic, believes representing one's country in conflict exceeds any honour he has won.
And the achievement should be magnified, in his mind, because of the lost opportunity to pursue other goals for the young conscripts, drawn by ballot to serve.
He recalls the rugby league and union players he played with in the mid-1960s games against Combined Universities and the Minister of the Interior's XV and how their military services robbed them of their sporting ambitions.
"Lots of them were denied the opportunity to fulfil their potential," he said.
Asked to compare these young conscripts with the NSW team he saw in the dressing room at ANZ Stadium on Wednesday, he says: "It's not the same. The breed of player today has come up through a different structure.
"The guys I played with in the army were part-time rugby league players, full-time workers before being drafted.
"I engaged with them in a far different way to today's Origin player, brought up in the professional era, going straight from school into the pathways of an NRL club."
Forever grateful to the army for fast-forwarding his football career, Fulton says, "The discipline they taught me helped prepare me for a life as a player and coach".
At the end of his two years' service, Fulton seriously considered a full-time military career but he recognised the concessions required for him to play for Manly and Australia would undermine service discipline.
A year later, he received a letter from the Ministry of Defence informing him that his war service entitled him to benefits.
"Because I had been in a war zone for longer than 48 hours, I could get a war service loan for a house and health and medical entitlements," he said.
"I refused. I told them I didn't deserve it. I didn't contribute. I respected what the others had done.
"They were way in advance of anything I had done. And I'm glad the last of them has been brought home."
ENDS
Lest We Forget.